2018-2019 SEASON
Our fabulous 37th season presents the music of David Maslanka, Gustav Holst, Jennifer Higdon, and John Philip Sousa, among many others.  Our Songs of Democracy concerts with the Voices West chorus feature Howard Hanson's stirring Song of Democracy and other World War I era classics.  Our Tribute to John Philip Sousa will be hosted by Governor Bill Ritter, with the CWE enacting the sound and feel of the historic Sousa band.  Shades of Blue introduces pianist Jooeun Pak performing George Gershwin's Rhapsody in Blue.  Please join us at the King Center, the Lakewood Cultural Center, Littleton United Methodist Church, and St. Andrew United Methodist Church in performances throughout the season.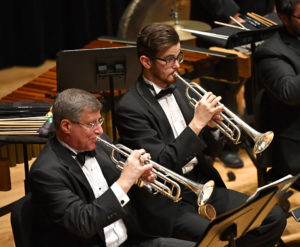 The Colorado Wind Ensemble would greatly appreciate your support on Colorado Gives Day, December 4.
Mark your calendars . . . more info to come . . .
Community First Foundation and FirstBank are presenting Colorado Gives Day on Tuesday, December 4, 2018. This annual statewide movement celebrates and increases philanthropy in Colorado through online giving. The $1 Million Incentive Fund created by the partners is one of the largest giving-day incentive funds in the country, and provides additional benefits to CWE when you donate here.  Thank you for your support!
CWE Conductor, Dr. David Kish
David Kish, a native of Hershey, Pennsylvania, is also Director of Bands and Professor of Music at Metropolitan State University of Denver, where he conducts the Wind Ensemble and Symphonic Bands, and teaches conducting and music education courses. He serves as a Faculty Fellow in the Center for Innovation, is founding director of the Metro State Wind Band Celebration, and is a recipient of the Faculty Senate Teaching Excellence Award.
The Colorado Wind Ensemble is metro Denver's urban wind symphony, featuring the versatile and sumptuous sounds of 45 woodwinds, brass, and percussion.  The CWE performs all around the region, playing everything from classics by Holst and Grainger to current contemporary sounds of Schwantner and Corigliano.  Formal season concerts, chamber music, summer band in the park, collaborations with other artists, and educational outreach with students are critical components of our vision.  Our mission is to present exceptional live performances of the various genres of music for woodwinds, brass, and percussion to audiences and students.  We hope you will join us!
Save
Save