2019 – 2020 Concert Season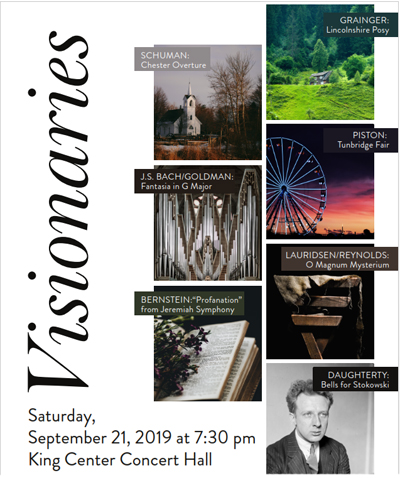 Visionaries
Saturday, September 21, 2019 7:30pm – 9:00pm
King Center on the Auraria Campus
855 Lawrence Way
Denver, CO 80204
This unforgettable performance will feature some of our most cherished works from the repertoire including Lincolnshire Posy, Chester, and Tunbridge Fair as well as music by Bernstein, Bach and Daugherty – all composers that became musical Visionaries.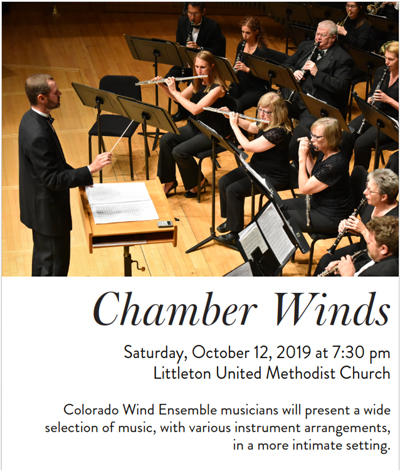 Chamber Cycle
Saturday, October 12, 2019 7:30pm – 9:00pm
Littleton United Methodist Church
5894 S Datura St
Littleton, CO 80120
Colorado Wind Ensemble is pleased to present exceptional chamber-style performances by smaller sets from within the larger ensemble. The evening promises to be a memorable one.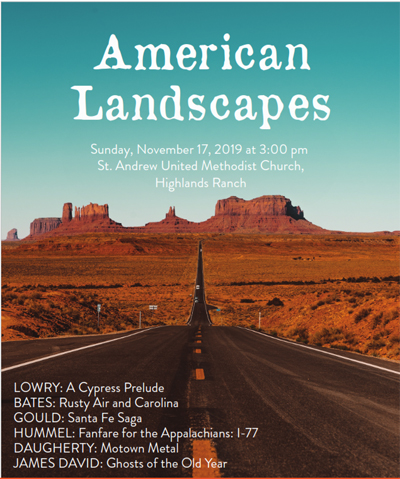 American Landscape
Sunday, November 17, 2019 7:30pm – 9:00pm
St. Andrews United Methodist Church
9203 South University Boulevard
Highlands Ranch, CO 80126
Colorado Wind Ensemble is pleased to present music representing the different regions of the United States.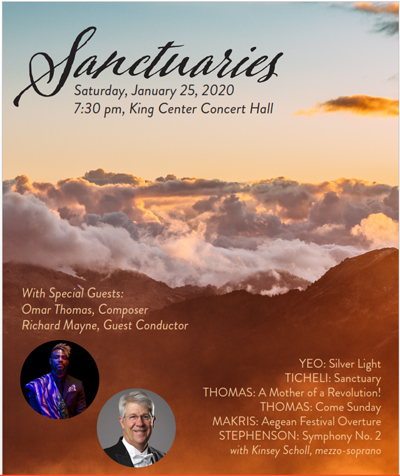 Sanctuaries
Saturday, January 25, 2020 7:30pm
King Center Concert Hall
855 Lawrence Way
Denver, CO 80204
Whether a place of refuge, celebration, meditation, spirituality, or contemplation sanctuary evokes powerful emotions. With special guest conductor Richard Mayne, and guest composer Omar Thomas, the Colorado Wind Ensemble is proud to present music selections that harness the deep and powerful emotions of sanctuaries.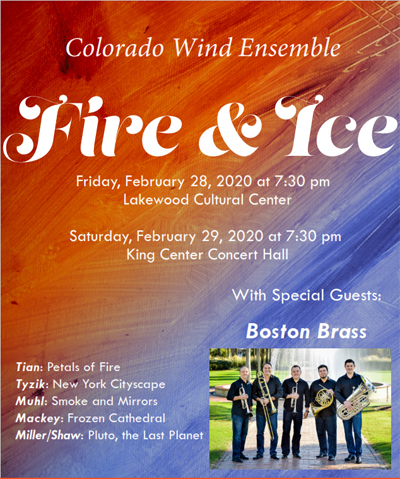 Fire & Ice
Friday, February 28, 2020 7:30pm
Lakewood Cultural Center
470 S Allison Pkwy
Lakewood, CO 80226
Saturday, February 29, 2020 7:30pm
King Center Concert Hall
855 Lawrence Way
Denver, CO 80204